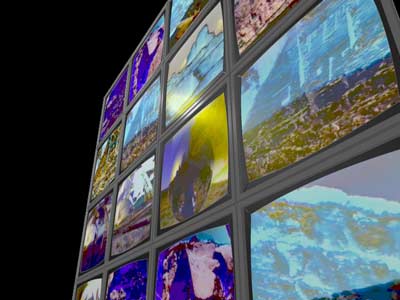 THE WEST
1983
AN ELECTRO/OPTO/MECHANICAL ENVIRONMENT BY STEINA
AUDIO BY WOODY VASULKA
THE WEST revels in the vastness of the western spaces, the primeval quality of the landscape and ancient architecture, the rich colors of the earth and sky, and the all-encompassing light and warmth of the sun. The complex layering of spaces and the electronic manipulation of image, color, and form so central in Steina's earlier work is still an important aspect of this installation. But The West is emphatically a tribute to the grandeur of nature.
— WILLIAM D.JUDSON
D E S C R I P T I O N
THE WEST is a two video, four audio channel installation with thirty minutes of repeating program. Each of the two video laser disk players provides one video and two audio sources to a bank of video monitors and four speakers. A video synchronizer aligns the two channels of video for synchronous playback. At the end of each thirty-minute cycle, the program automatically returns and re-synchronizes for a repeat performance.